"I've learned that opportunities are never lost;
someone will take the ones you miss."
Mitzvah Morning: I have a friend who is in a bad way and she needed some help this morning. I dropped by but I just can't keep my mouth shut when I can see obvious things that need doing so I spewed out that perhaps there should be a therapist, not Sandy, involved. Seems I left on good terms but came home a spewed all my feelings to poor TY- I can do this because he never hears me anyway, and not just because he's deaf, he just plain DOESN'T HEAR ME. Not a bad thing, just an annoying thing. Another mitzvah with another friend who is leaving for awhile. We drank coffee and chatted and I hope I calmed some of her nervous energy. Then I went to the studio.
And the studio calmed ME down. I got the stick sawed in half for the 66" wide piece I am sending out, and drilled two additional holes for the open part of the sleeve. This quilt will be hung on 4 brads, not two- hope they understand that so I wrote it all out. If they don't like thatI also installed a little angle brace to one edge of the center cut with two tiny screws. And I taped the 2 additional screws to the stick so they CAN stick the stick together in the center- we'll see what they do. Now the cut stick works fine and the quilt rolled right around it and fits into the 60" sono tube beautifully for shipping. So, it's all wrapped and ready to mail.
I got a call from the library where I taught the other day and they can't use my business W-9 so I need to send off an additional individual one so that's on the decks for tomorrow. And then I get to go sew some more on 'Shoulda Said'.
I was optimistic when I left and I think I can, I think I can, I think I can make it work. Of course once I get it off the wall with all that bias the bets are off. But we'll see...
Now HERE is an
ARTY PARTY
if I ever saw one! We missed it because it was last week, but there will always be another one next year!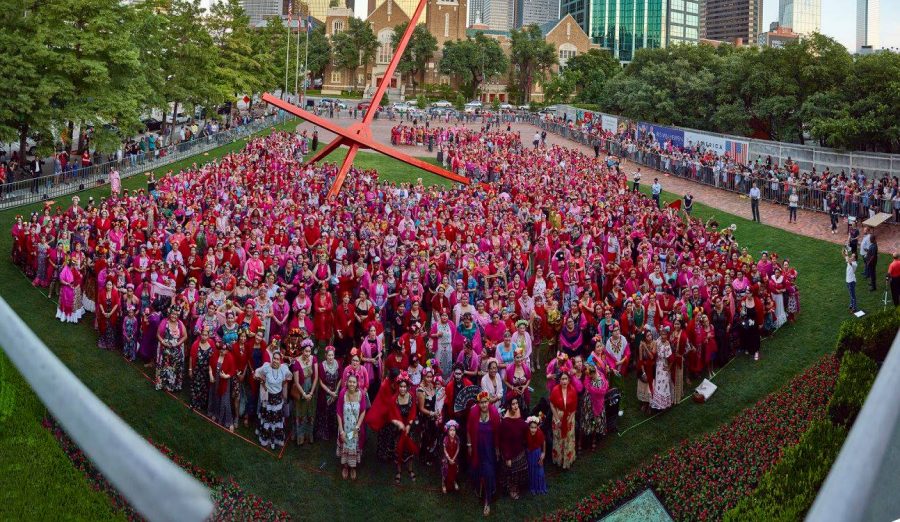 The Dallas Museum of Art and the Latino Center for Leadership Development are partnering to set the Guinness World Record for the largest gathering of people dressed as Frida Kahlo in one location on Thursday, July 6, on what would have been Frida Kahlo's 110th birthday.The rules included:
A unibrow drawn onto the face joining the eyebrows. This can be done with make-up or by sticking hair.

Artificial flowers worn in the hair, a minimum of three artificial flowers must be worn.

A red or pink shawl.

A flower-printed dress that extends to below the knees on all sides; the dress must not have any slits up the side.
If you do not meet the criteria listed above, you won't be able to participate in the record attempt per the Guinness World Records' guidelines.